A common mistake many people make is to value their work boot's style and brand more than the safety they should bring. For those who work in industrial, construction and electric settings, having proper steel toe boots can make a big difference between staying safety and suffering from injuries due to slippery surfaces, sharp or heavy falling objects.
While it is true that even the best steel toe boots do not guarantee complete injury prevention, they help reduce damage significantly. Here are a number of factors you should take note in getting the right steel toe boots.

Safety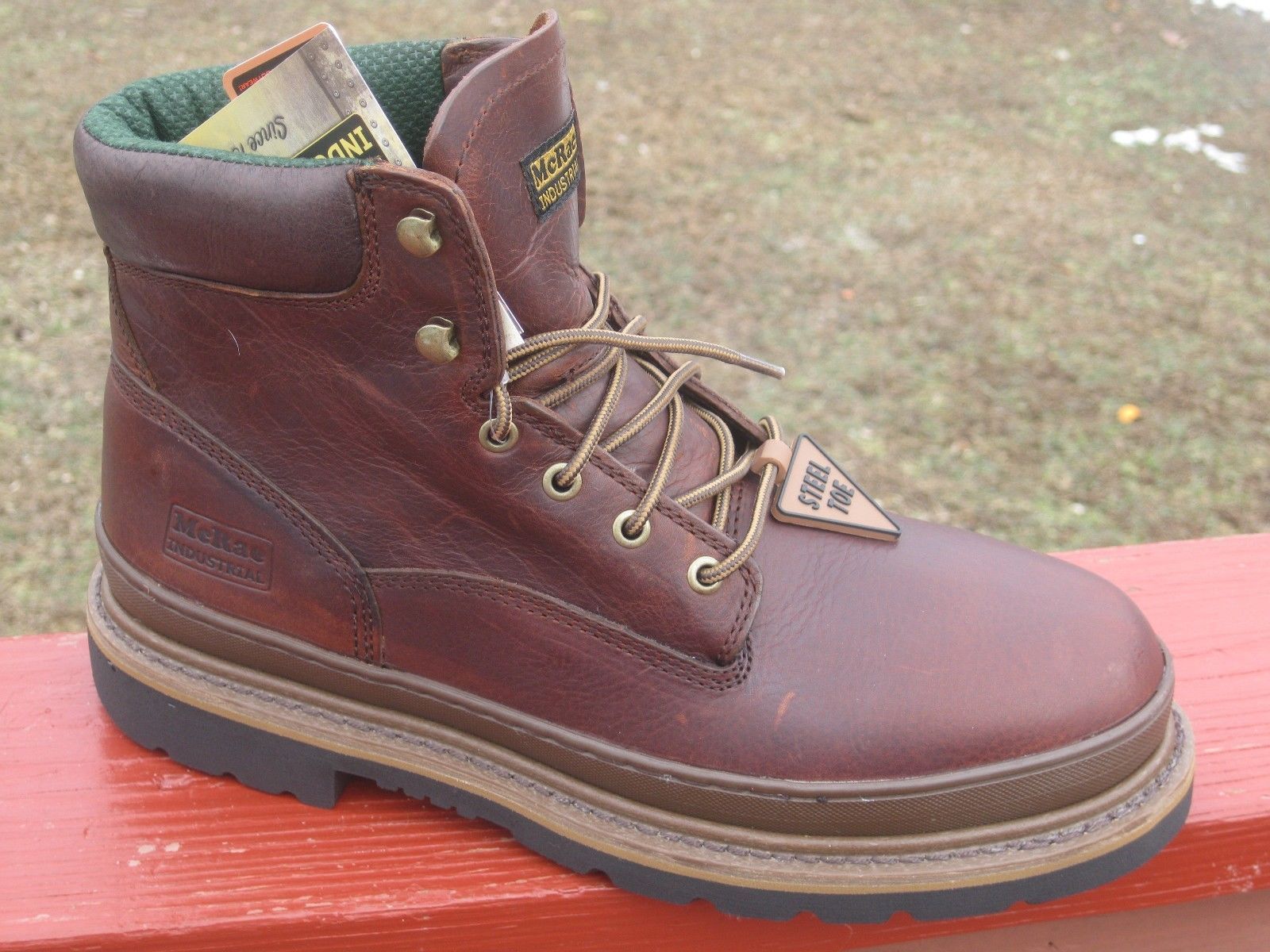 For steel toe boots, we highly recommend you to value their safety function over appearance. Of course, we do not mean you have to settle with boring boots because a pair of cool, brand name boots can make you feel good while wearing it. Just do not let appearance become the deciding factor in your purchase.
With many types of steel shoe boots available, you need to consider your working environment to find the type that matches it the most. For example, if you work in a slippery environment, waterproof boots with the anti-slip feature are likely what you need.
In a construction field, look for thick soles that help you deal with sharp and falling objects. Shock resistance/electrical insulation feature is useful in an electric setting; these boots should also be able to reduce static electricity
In terms of boot construction, make sure the boots are well-made and sturdy to resist puncture. Choose rubble soles for increased friction and reduced abrasion
One thing you need to pay special attention is safety standard. Depending on the industry you work in, there can be mandatory certification for boots due to occupational safety and health legislation. There can be national or international safety standards, as indicated in the markings on the label.
Comfort
You need your work boots to provide adequate safety but you also want it to be comfortable while wearing. Accidents do not happen every day but uncomfortable boots can distract you from working and result in food injuries. So how can you choose comfortable steel toe boots?
Size
Size matters when you look for a good fit. Boots that are too wide and too long do not breath well and make you feel comfortable, contrary to what many people think. Make sure you leave enough room for socks and insoles.
Material
You need the boot material to be strong and sturdy but it should not be rough on tough on your skin. Leather boots are recommended for the comfort they bring but make sure you choose good quality leather. This material provides good ankle support and insulation. Breathability is also very important in ensuring comfort: it is not nice at all when you sweat in our boots.
Sock
You wear the wrong sock and you can feel miserable in your expensive boots. Choose suitable steel toe stock with extra padding.
It is also highly important that you try your boots before buying. You never know for sure if a pair of boots fit you well unless you try them on and lace them up properly (take note that proper lacing helps improve fit). Remember to bring the socks you wear to work often to the store and put them on before trying to.
Pick at least several pairs to try on. And do you know what the best time to shop for boots is? It is late in the afternoon when your feet are also sore and tired.
Durability
It is very frustrating to spend quite a lot of money on a pair of boots that break off after just a month or two. Good materials and construction are very important: pay some more for them and your boots can last for years, saving you money and troubles in the long run. Of course, proper maintenance is also the key for boots' durability.
There are various materials used for work boots. The most common one is leather, as mentioned above: it is an excellent choice for durability. Nylon is not as durable but it breathes well; therefore so it is mostly used in the form of nylon mesh panels.  Rubber is durable but tough and not breathable so it is used as sole material.
Thomas James who is expert in these fields wants to share some experience when choosing boot to move comfortably. You should check the soles of boot. Soled boots are the most important part of each shoe. This is the direct bearing of legs and frequent friction with the road when you move.
Therefore, to assess the good quality boot or not women want to look at its soles. A good pair of shoes, the shoe should have the elasticity, hardness and certain traction. Before you buy, you wear a try and move to ensure that the shoes that move the most comfortable.